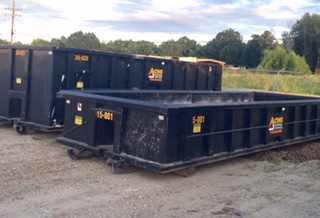 30-Yard Roll-Off Dumpster Services
Remodeling a room at your home or business? At Acme Disposal Services, we offer 30-yard roll-off residential and commercial dumpsters to make the disposal process a breeze. We're focused on the needs of our customers throughout Monroe, LA and the surrounding area. With a huge selection of roll-off dumpsters, whatever size you need for your job, we've got it. 30-yard is our recommendation for larger projects with more debris involved.
---
30-Yard Roll-Off Dumpster Delivery and Pick-Up
We know that with any construction project, time is always of the essence—that's why we always abide by 24-hour turnaround times. Order your dumpster today, and it will arrive tomorrow. Our dedicated team works fast to get you the equipment you need. When you're done with your task, give us a call and we'll come pick up your unit quickly and efficiently. We make the process simple, so you can focus on the job in front of you.
---
30-Yard Dumpster Projects
Our 30-yard roll-off dumpsters are our most popular model because they're so versatile. These dumpsters have open tops so you can easily toss in trash and debris and make quick work of any clean-up job.
30-yard roll-offs have capacity to hold 12 standard pickup truck loads of debris—they're perfect if you need to get rid of bulky items including furniture, appliances and much more. Dumpsters of this size are ideal for the following tasks:
Helping You Get Rid of Rubbish
At Acme Disposal Services, our mission is to help you with your construction, renovation or clean-out jobs with dumpster rental that you can rely on. We're here to serve our friends and neighbors in Monroe, LA with our industrial-sized inventory of special equipment. Call us today at 318-343-6300 to learn more about our roll-off dumpster services.